Boulevard Brewing Co.
experience design
Boulevard Brewing Co. expanded their visitors experience to a newly acquired building. With the new space, they wanted to tell their story though engaging, interactive, analog experiences. We designed different areas of discovery in which visitors are encouraged to engage with the elements: smelling, tasting, spinning, flipping and cranking while learning about the history of beer and Boulevard's unique brewing processes. We wanted to keep the experience approachable with hand-painted signage and murals that welcome visitors. Every design concept, application and material selection was meticulously planned in collaboration with the Boulevard team to ensure the end result would be an authentic extension of their brand.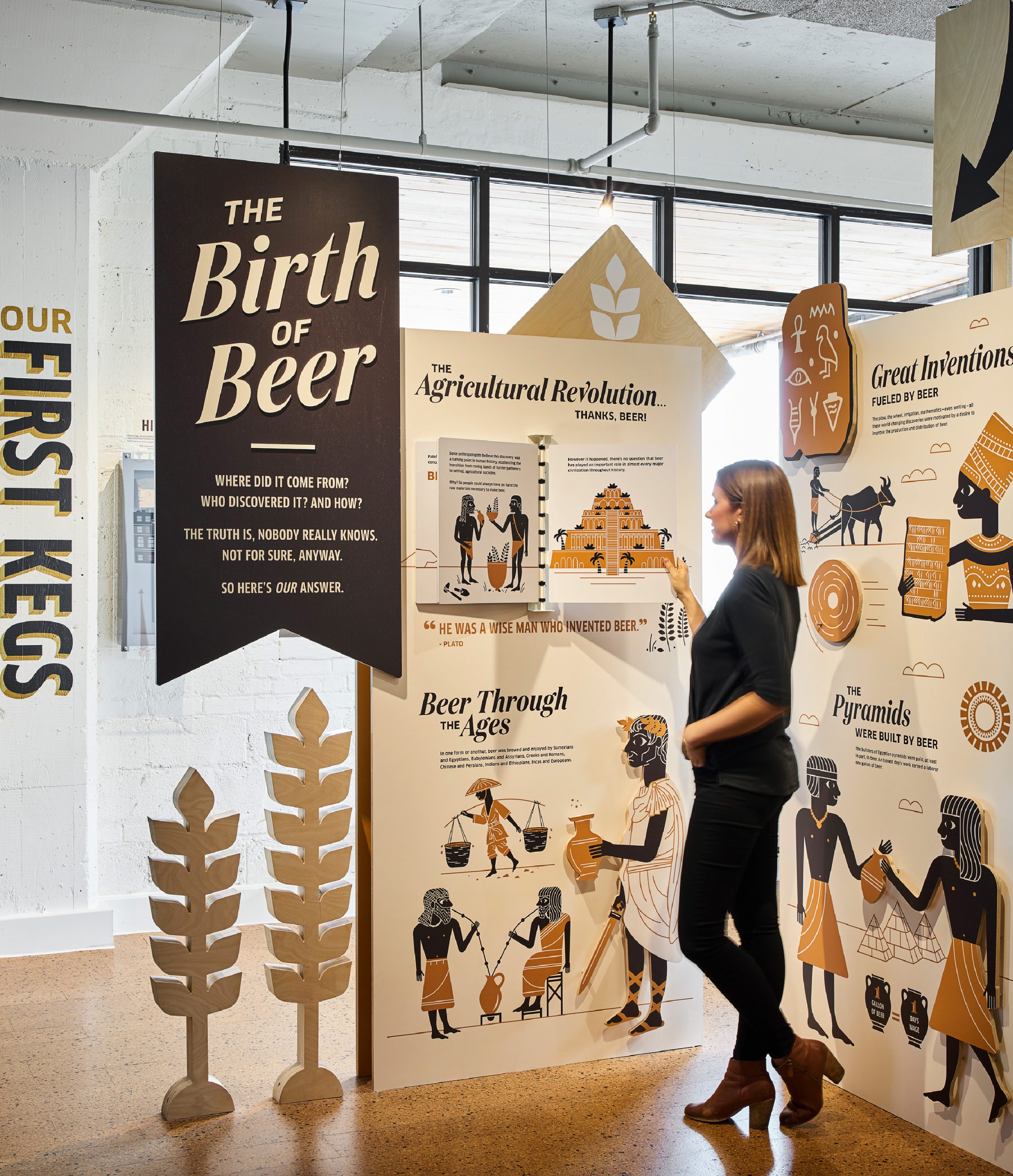 Our approach while designing the Boulevard Experience was to create opportunities that encourage guests to engage on a more analog level. With this hands on approach to telling the History of Beer, guests can flip through wooden books to discover the story of how beer was born, swivel a wheel to reveal fun facts, open a door to discover how European monks became master brewers, spin the wheel of the Founding Father's to learn about these diplomats as brewers and crank the newspaper press to read all about the Prohibition Era. Inspired by the Eames interlocking cards, we wanted to create a freestanding experience that drew people in from multiple vantage points. Graphic baltic birch wheat stalks rise up from the floors, panels and signs hang from the ceiling and our 2-color illustrations play between 2D and dimensional levels.
With so many stories to tell and so little wall space, we utilized the windows for display. In one window bank, we pay homage to Kansas City's rich brewing history, while displaying the evolution of the Boulevard brand and artwork throughout it's 28+ years in another window. Reclaimed custom wood frames slid in to existing windows, then adding varying sizes of display boxes to feature artifacts. Below the windows, an angled shelf displays additional information with three inset boxes featuring more artifacts and artwork.
Adjacent to the window displays, stands a large hand-painted mural proclaiming, "Here for the Beer". Visitors are encouraged to take photos to commemorate their visit.
"The challenge with the new Tours & Recreations Center was to develop a unique experience that tells our story in a simple, interactive and engaging way. Carpenter Collective's innovative solutions and collaborative process helped us do just that, helped us create an authentic place that reflects our personality, a place where people want to be."
Most beer is made the exact same way with the exact same ingredients. When designing this experience we wanted to tell the stories behind the processes that make Boulevard unique.
The Better with Age display highlights Boulevard's barrel aging process. Dissected barrels, hand-painted with information are backlit and mounted directly to the wall. Full barrels sit adjacent with peek holes. Push a button to turn on an internal light and view the interiors of the toasted wine barrels and charred whiskey barrels.
Discovering the Key Ingredients through the Boulevard lens engages all senses. A custom design mural serves as the backdrop to all of the interactive displays. Taste the pale malt, squeeze the custom engineered hop sniffer to release the aromas of the featured varietal and peek through the viewfinder to see yeast cells multiply.
Step on up and spin the baltic birch diamonds to discover the story behind some of Boulevard's most well known beers. Go ahead and swivel those 8 foot tall bottles to learn about Boulevard's unique bottle conditioning process. (Disclaimer: bottle caps spin separately). Or simply wait for your tour to start under our custom designed arrow with moving lights that sits beside our custom typography hand-painted directly on hot-pressed steel.
"It's got an adult version of a 'kids science museum' vibe in a wonderful way."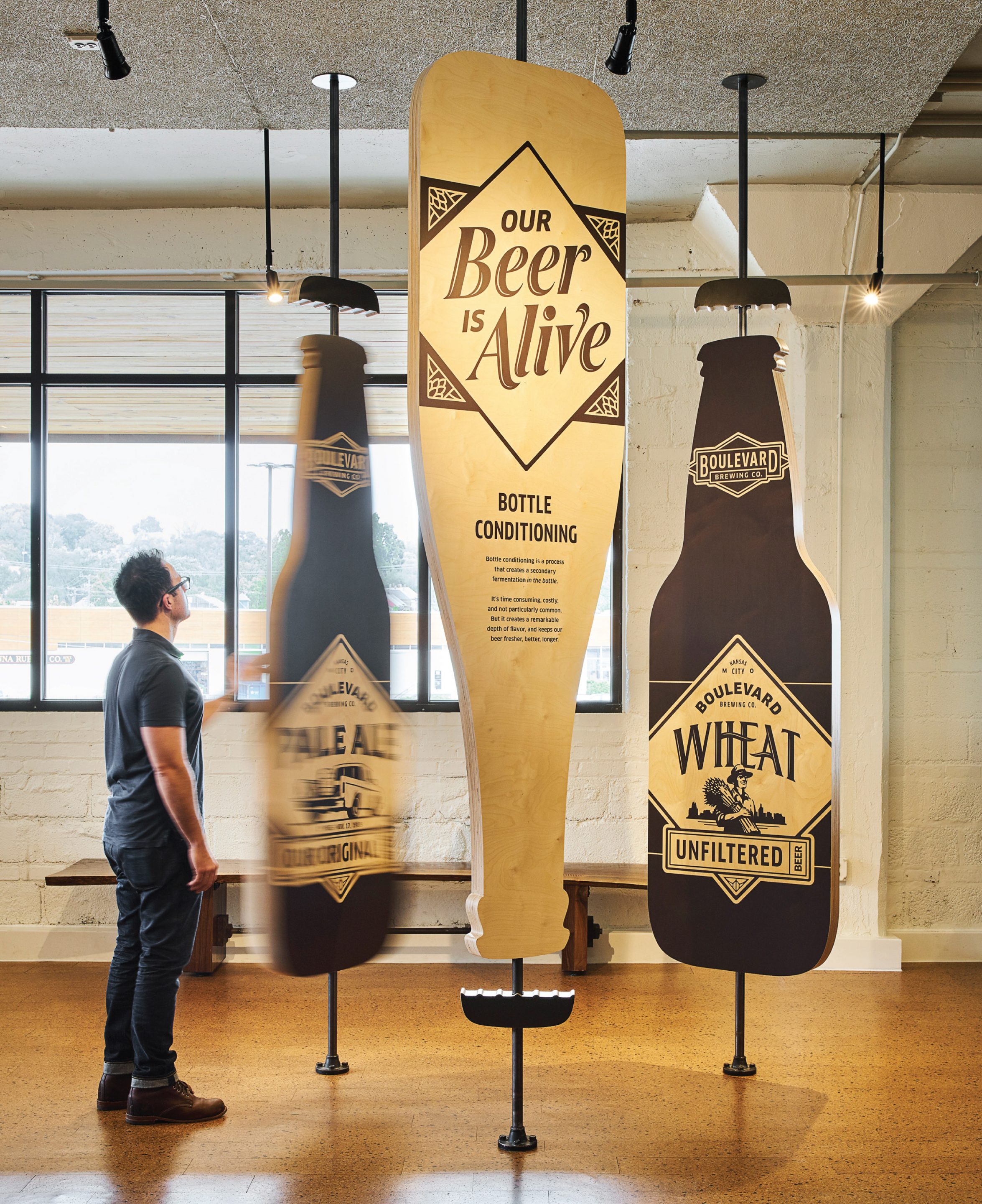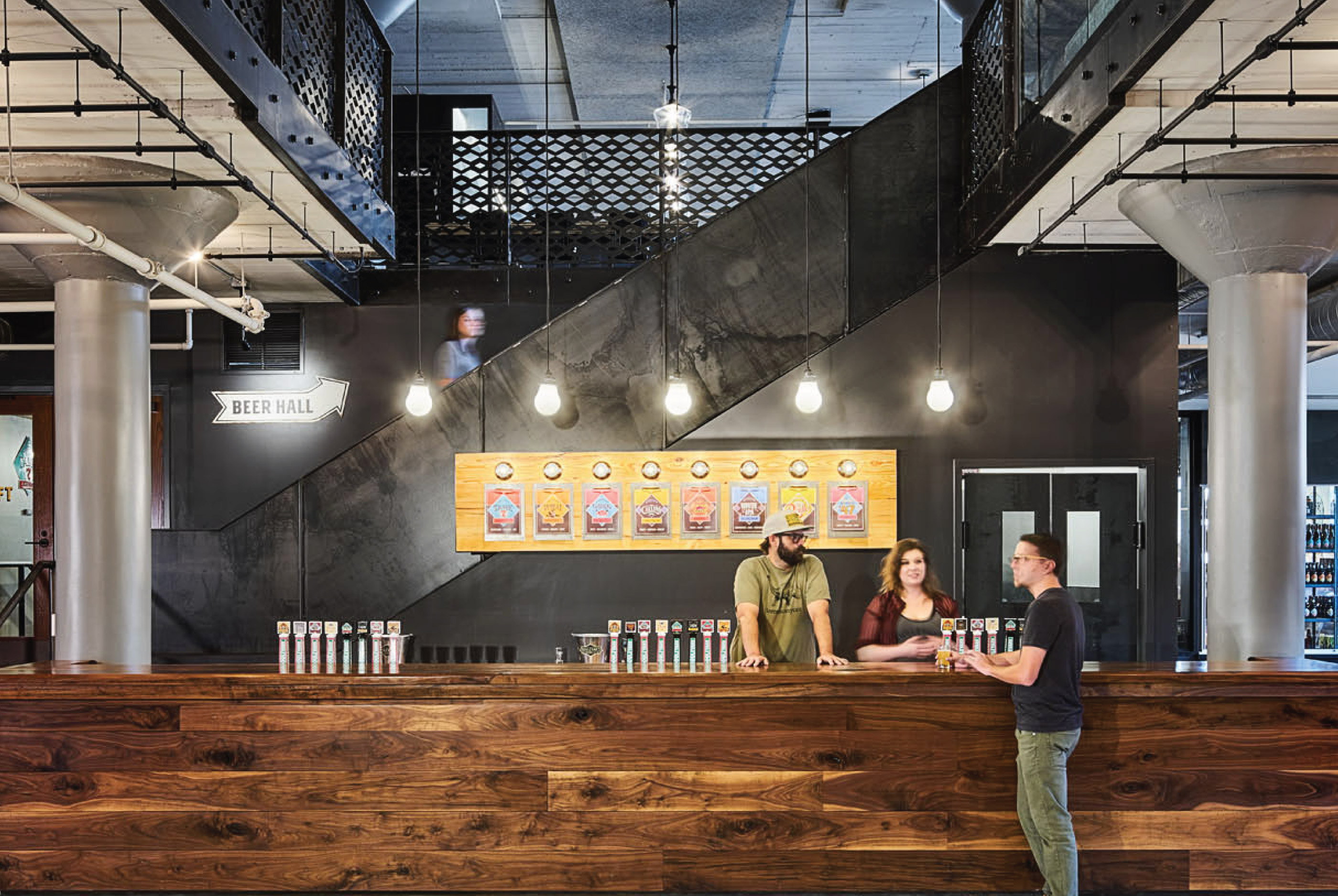 Boulevard History
MK12 Collaboration
In 1989, Boulevard Brewing Co. was established and has truly flourished for over the past 25+ years. We knew we needed to tell their full story in a unique, timely and engaging way. Carpenter Collective designed the open, yet intimate theater outfitted with directional speakers, a tonal mural and a push button to activate a video to tell their rich history. We began storyboarding and brought on Grammy nominated motion design studio, MK12 to bring the Boulevard History to life.
Additional collaborators include:
Helix Architecture & Design: architecture
Dimensional Innovations: Engineering, fabrication and signage
Midtown Signs: Custom signage
Palomino Woodworks: custom reclaimed wood structures used thoughout the experience