PT's Coffee Roasting Co.
Rebrand & Packaging
PT's Coffee Roasting Company, established in 1993 in Topeka, Kansas was in need of a brand refresh as they celebrated their 25th anniversary. As we approached the brand identity re-brand, we were truly inspired by PT's passion for exceptional coffee from seed to cup. It was important for the new identity to reflect their love of coffee from their direct trade relationships with the farmers to the retail clientele.
The inspiration behind the updated PT's mark and identity happened on a visit to PT's Coffee headquarters in Topeka, Kansas. Less than two miles from PT's roasting facility, we drove by a herd of bison grazing on the Kansas prairie. The bison of the great plains represents strength, unity and abundance. PT's wanted their new identity to be reflective of these same values as well and connect to their Midwest roots. The design style reinforces the hand-crafted nature of PT's products—making their brand more approachable and memorable in the market.
"We created a labeling system that categorized PT's 70+ roasts and allows them the flexibility to adjust and print each label on-site the day it is roasted."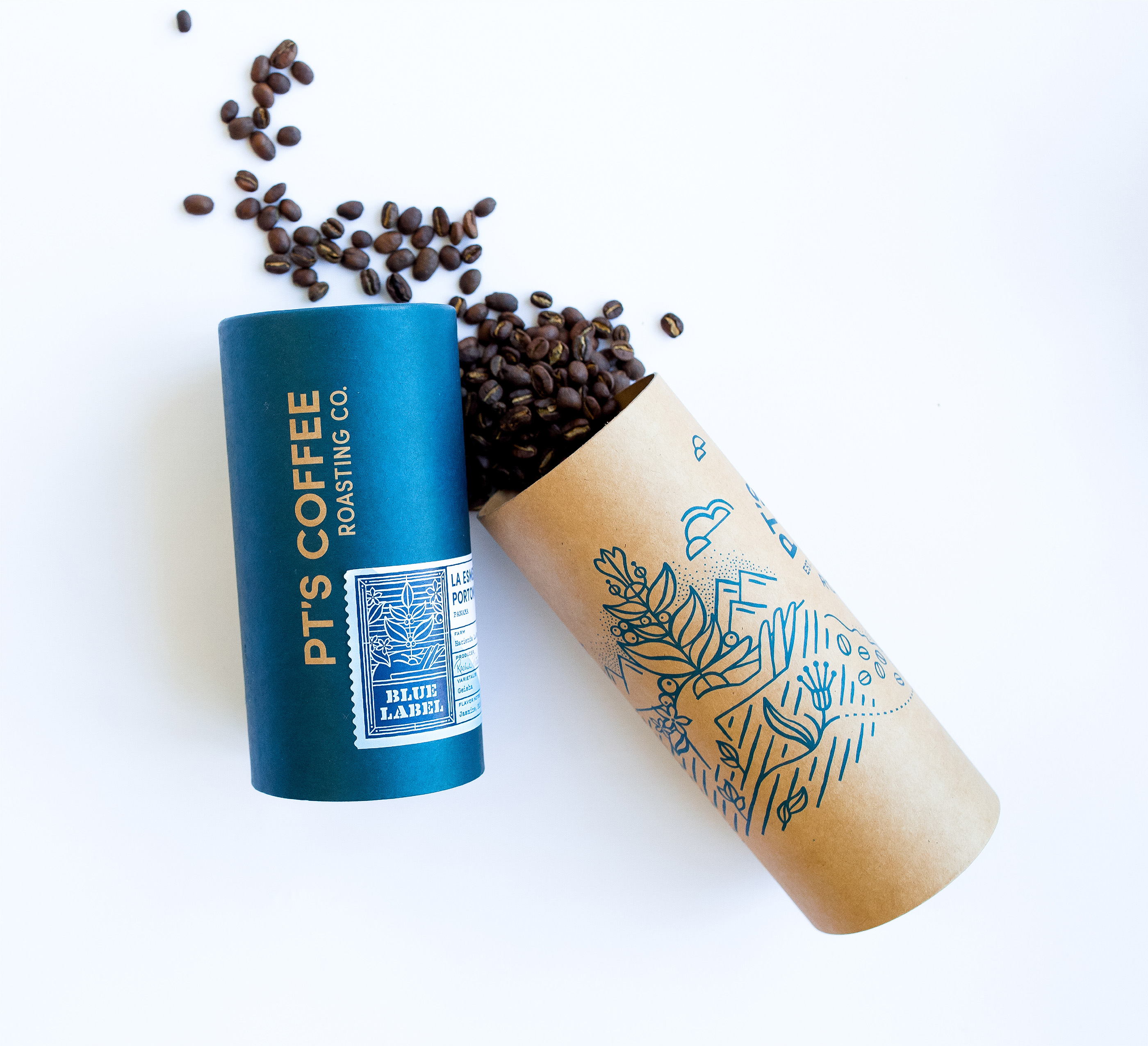 "The Carpenter team could not have been more professional or helpful to us in this process. Their talents are endless and their execution brought us to a place in our brand development we could not have dreamed. Thank You!"
The updated brand identity also extended to their new cafe location in Lawrence, Kansas. Within this system we designed an exterior signage package, interior wayfinding, custom retail shelving that is completely customizable to their needs, a wooden dimensional bison wall piece, wall murals and a flexible menu board.
"PT's challenged us with designing a menu board that is not only simple and beautiful, but can be easily updated and hold up to the wear and tear of a cafe. Our final solution checks all those boxes and allows PT's employees to focus on what they do best brew and serve exceptional coffee."